Whatever needs repairing, we can fix it...

Oriental rug repair and restoration is very skilled and precise work and can be a labour intensive process. Our skilled master rug restorers have the expertise and experience to repair all damaged rugs having worked internationally on a wide variety of different rugs. Our workshop is fully equipped to carry out all rug repairs on all types of rugs regardless of the original fibres, their size or whether hand or machine made. We select the correct colour yarns from stock that we import from the rug producing areas of Asia, in order to obtain the best colour match for invisible repairs. From fringes and sidecords to the complete restoration where holes or sections of the rug need rebuilding and repiling, all rugs are repaired by hand using many of the same traditional methods employed by the original rug weaver.




These are some of the most common repairs we carry out:

Fringe repairing and securing
Sidecord rebinding
Repair holes, tears & slits and water and smoke damaged areas (as shown above)
Flatten the edges of curled rugs (see below)
Moth damage
Rebuilding lost parts of a rug
Re-weaving and re-piling worn areas
We can also resize, and re-fringe and secure rugs and runners.
(An unusual request saw us turn a rectangular rug into an oval rug - see below)

All rugs must first be cleaned prior to any repairs being undertaken in order to get a correct colour match for all of the new wool or silk. Clean rugs also make repairing easier as the yarns are softer and more pleasant for our restorers.

In the first instance, Contact us to advise you and for a FREE repair appraisal and quotation. We may ask you to send us high quality pictures of the damage requiring repair to help us give you an accurate quotation. Home visits can be arranged depending on location.

Some of the rugs we have cleaned and repaired

Chinese Hand Knotted Circular Rug

Deep clean and repair and re-secure the fringe.

The deep clean has revived all colours and lifted the flattened pile. Repairing and securing the entire damaged fringe will prevent any further fraying and loss of knots/pile to the body of the rug to give many more years of service.



Before After

A Turkish Wool Rug

This rug needed a number of repairs to the sidecords and the pile rebuilding plus a thorough wash and refresh as it had been stored for many years. All traces of moth will have been removed during the cleaning process but for extra piece of mind for the future we moth treated it during the cleaning process with our moth proofing treatment.

Top tip: Regular hoovering front and back of the rug and lifting the rug occassionally will help prevent any future moths settling in and eating the wool.



Before cleaning and repair



After a thorough clean and the full repair

The Repairs



Front of rug before repair Front of rug after pile and sidecord replaced



Back of rug before repair Back of rug after pile and sidecord replaced


Repairing Moth damage
We can reconstruct the foundation if necessary and then re-weave the new wool pile by hand, matching the original colours and design. The example below, a Persian Heriz, has a cotton foundation which was unaffected by the moth damage, therefore repiling could be carried out straight onto the original foundation.



Before (front and back)



After repair (front and back)


Resize and reshape of a hand knotted Indian wool rug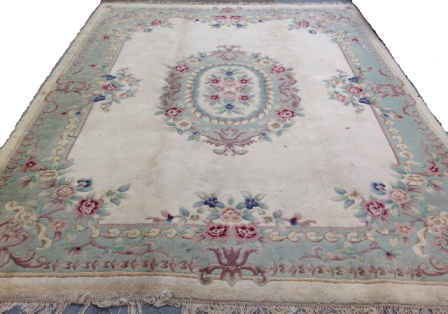 Before After


Rugs that curl up or need stretching back to shape

We can flatten the edges or corners of a rug that curl up. Curling usually occurs because the tension of the foundation of a rug was not quite right when it was made and it often occurs in finer, tightly woven rugs. Also water coming into contact with a rug can cause shrinking and therefore curling or stretching out of shape.

To rectify the curl/stertched, the rug is stretched and pinned to a board. The rug is steamed to dampen the wool as this makes it easier to stretch. As the rug dries, the pinned ends are moved apart over a specified time to gradually stretch out the rug. Once dry, the rug is unpinned and should now lie flat. The process can be repeated if necessary. (See photos below)

For side cords that curl under, a strip of webbing (often leather) can be stitched onto the reverse of the rug, along the side edge that is curling, to stretch and hold the rug taught to correct the curl.

Rug Stretching - Afghan Turkoman design wool rug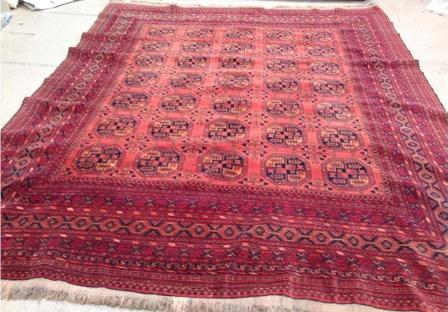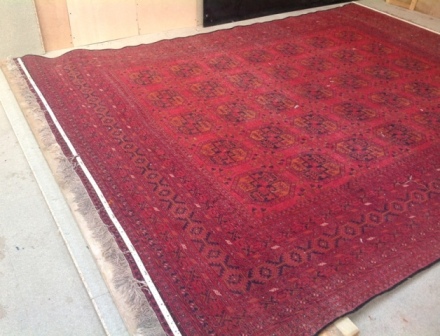 Before The Process


Rectifing rug sidecords that have curled under

This Persian Qum rug has a fine, tight weave and therefore over time the wool has contracted causing the sidecords to curl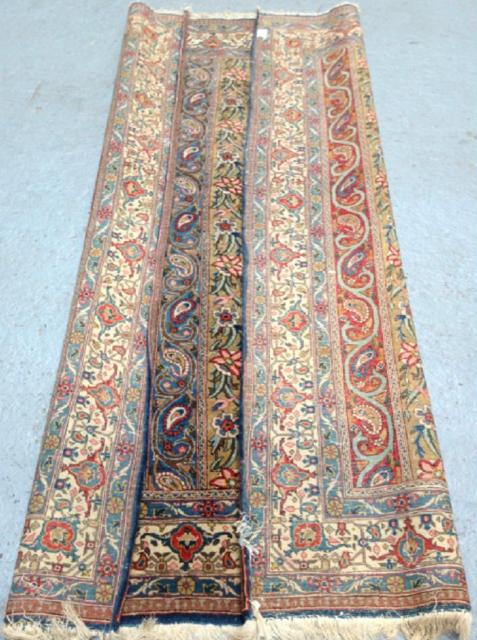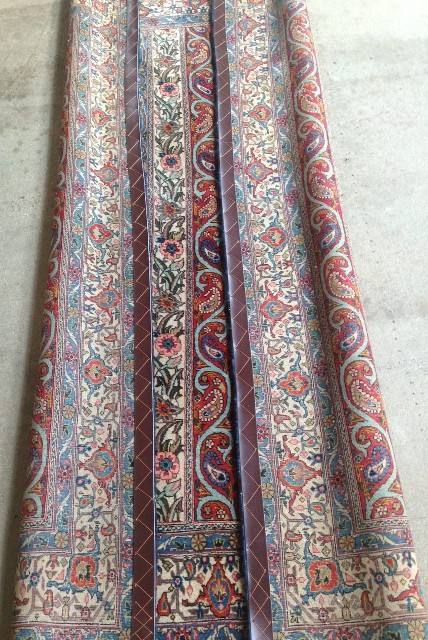 Before and after - leather webbing strips have been added to tension and correct the curled sidecords, hand stitched to the reverse of the rug. (Stitches not visible from the front of the rug)

Have you got a more specific rug repair issue? Get in touch and we'll use our many years of experience to help.

We offer specialist rug repair and restoration for all types of rugs & fabrics - large or small - Oriental, Modern & Contemporary Rugs - Hand Made & Machine Made Rugs - Antique Rugs - Silk Rugs - Persian Rugs - Afghan Rugs - Turkish Rugs - Pakistan Rugs - Chinese Rugs - Indian Rugs - Kilims - Needlepoints - Tapestries - Sisal Rugs - Seagrass Rugs etc.

We cover Wiltshire, Gloucestershire, The Cotswolds, Oxfordshire, West Berkshire and the Bristol/Bath area. Get in touch to see if we cover your area and receive a FREE no obligation quote.

If, having looked at our services, you require further information or advice, please Contact us